Mental Health Awareness Walk & Fair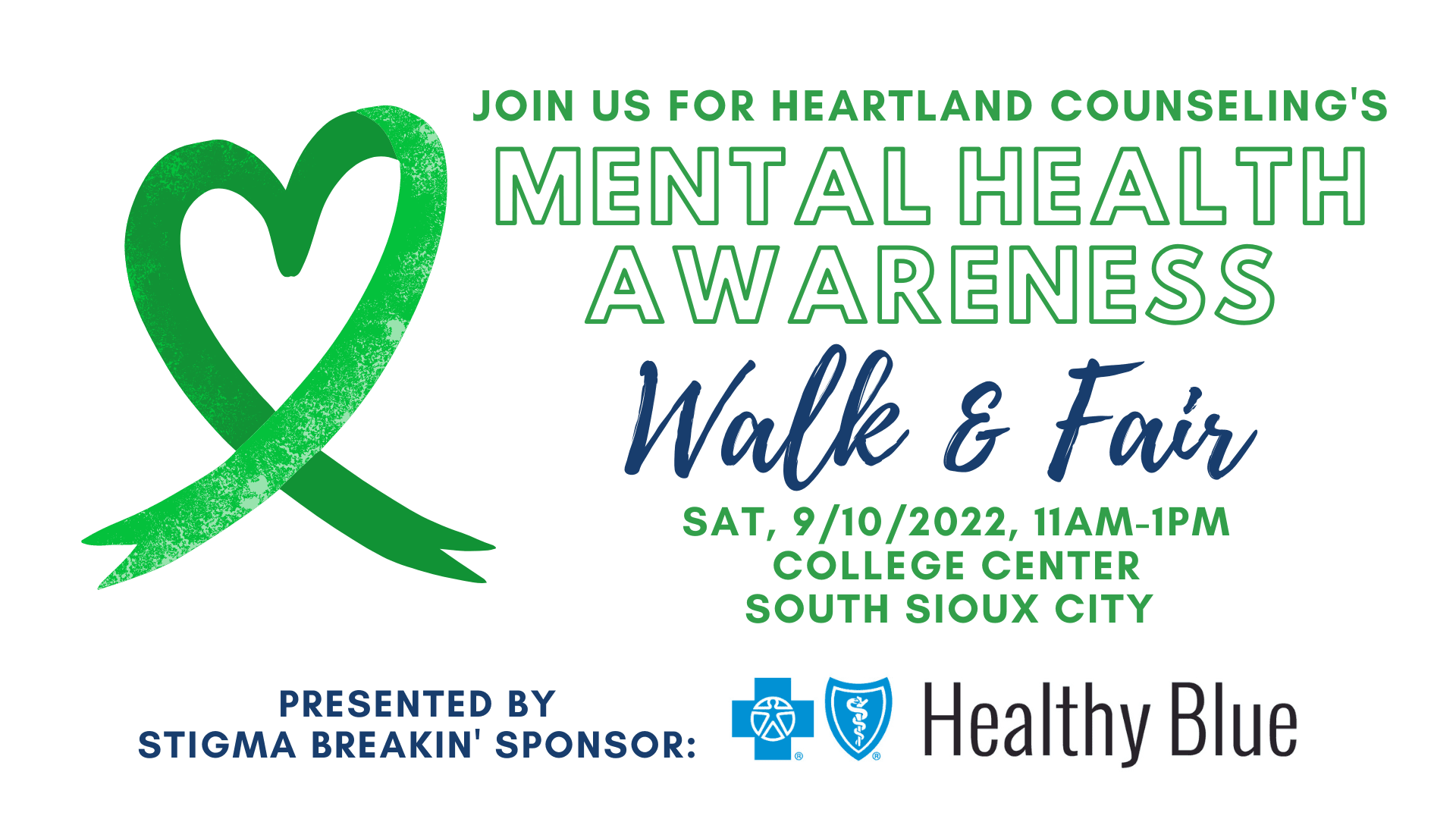 JOIN STIGMA BREAKIN' PRESENTING SPONSOR HEALTHY BLUE for ...
MENTAL HEALTH AWARENESS Walk & Fair
Saturday, 9/10/2022, 11am-1pm
meet at College Center, South Sioux City
Presented by Healthy Blue and hosted by Heartland Counseling Services Inc., this FREE Fun Event and Walk celebrates the 33rd Anniversary for Mental Health and Substance Abuse Recovery Month! We'll have vendors selling their wares, information tables from multiple Siouxland agencies, face painting, lawn games, the walk, FREE t-shirts to the first 200 participants, and more!
FOOD TRUCKS!!
~ Mama Moon Rae's Eats & Treats will have hot dogs & mini donuts
~ Crazy Jack's will provide their Mexican menu!
Donations will benefit the many services provided by Heartland Counseling to the families in the Siouxland community.
Sponsors as of 9/8/2022:
~ Healthy Blue (Stigma Breakin' Presenting Sponsor)
~ Mailhouse Inc (Hope Sponsor)
~ Wall of Fame (Hope Sponsor)
~ Kathie Pfaffle, Century 21 Prolink (Hope Sponsor)
~ Kevin O'Dell Electric (Hope Sponsor)
~ Valiant Lawn Services (Hope Sponsor)
~ Pamela & Alfonso Camarillo (donor)
~ Julie Younkin (donor)
~ Saul & JoBeth Gomez (donor)
~ Don Claeys (donor)
~ Scentsy by Paula Wendte (donor)
Vendors & Booths as of 9/8/2022:
~ Siouxland Crystals
~ Catholic Charities
~ Parent Partners
~ Heartland Counseling Services
~ Kindness Signs
~ Project Aware
~ South Sioux City Chamberettes
~ Haven House
~ Human Rights Commission
~ South Sioux City Schools
~ Unicorn Logic
~ Siouxland Pride Alliance
~ Siouxland Habitat for Humanity
~ Big Brothers Big Sisters
~ Girl's Inc.
~ Her Health Women's Center
Download sponsor forms and vendor forms at the bottom of this page. Sponsors, donors & walkers can also use the "register now" button!
To get involved, contact Sarah Shanahan at Heartland Counseling Services Inc. - sarah@heartlandcounselingservices.com.